The 2022 Subaru Love Promise Customer and Community Commitment Award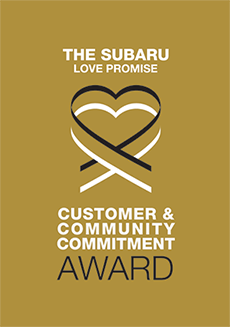 We've been nationally recognized for our dedication to our customers, our community, and the Subaru Love Promise.
We're honored to receive the 2022 Subaru Love Promise Customer and Community Commitment Award. This award nationally recognizes elite Subaru retailers who provide an exceptional customer experience at every interaction with Subaru. These retailers have also demonstrated an outstanding commitment to supporting passions and causes in their local communities in important areas such as the environment, community, health, education, and pets.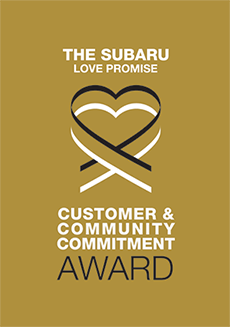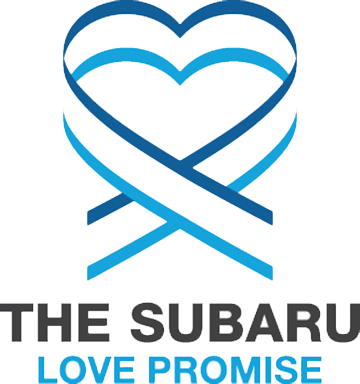 What is the Subaru Love Promise?
Subaru and our retailers believe in making the world a better place and the Subaru Love Promise is our vision of respecting all people. This is our commitment to show love and respect to our customers and to work to make a positive impact in the world.
How is Randy Marion Subaru dedicated locally to the Love Promise?
Our Love Promise can be seen in various partnerships with local charities and non-profits including the Humane Society of Iredell, Mooresville Soup Kitchen, and the American Red Cross. We're grateful for the opportunity, not only to be a part of our community, but to serve it as well.
Lake Norman Regional Medical Center
Love Promise Stories from Randy Marion Subaru
Subaru and Randy Marion Subaru believe in making a positive impact on the communities in which we live and work. We uphold that belief through our Love Promise Community Commitment. Every month, we select inspiring stories from customers and partners from around our area who strive to support our collective commitment and feature them here
SATURDAY SHARE - marshall m
Randy Marion Subaru began serving alongside Saturday Sharing on Saturday mornings in April of this year. Saturday Sharing is a group of volunteers that serves the housing insecure in Charlotte by providing toiletries, clothes, food, and identifying individual needs by developing relationships. The goal was to combat the hidden dangers of summer, and to help a community that is often overlooked. Employees from Randy Marion passed out reusable water bottles, sunglasses, sunscreen, cooling towels, hand-held fans, mosquito repellant and new socks on "the block". The Block is a gathering place for many of our homeless neighbors making it the best place to "share". Saturday mornings became special we gave people things in person that they needed immediately. Smiles were shared, conversation was made, and we learned of specific needs. The smile is brighter when you remember who needs XXL socks and you can present them to him the following Saturday. . "Randy Marion Subaru's campaign "It's Cool to Share the Love" help to prevent heat exhaustion, sun poisoning, dehydration, and eye injuries for our housing insecure neighbors in Charlotte, truly a life saving measure." Terri Karam, Saturday Sharing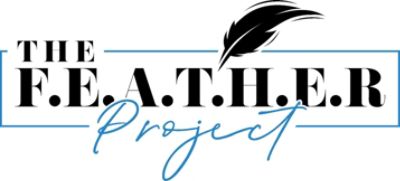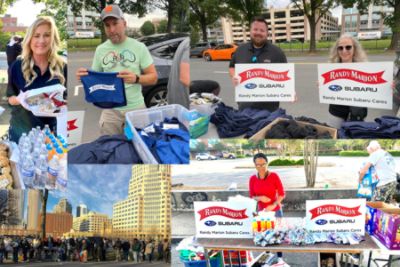 ---
Reducing High Blood Pressure in Iredell County - Randy M
Randy Marion Subaru was proud to be a part of the Adopt-A-Clinic program with the American Heart Association, benefitting two Iredell County health systems, providing 70 complimentary blood pressure cuffs with hypertension educational materials to patients that show the most need in Iredell County. Diseases of the heart are the second leading cause of death, and cerebrovascular disease is the third leading cause of death in Iredell County. According to the Iredell County Health Department's 2019 Community Health Assessment, 35% of Iredell community respondents reported having high blood pressure and 32% of community respondents believe heart disease is the top health concern in Iredell County. Nationally, more than 116 million American adults have high blood pressure and 75% of them do not have their blood pressure under control. High blood pressure increases an individual's risk of heart disease and stroke and serves as a deadly risk factor for COVID-19. Hypertension hits close to home with some of our own Randy Marion Subaru employees fighting high blood pressure every day. As a result of this initiative, one of our employees now regularly monitors and tracks his blood pressure, which helps to control one of his personal risk factors for heart disease and stroke. Randy Marion Subaru is grateful to continue their collaboration with the American Heart Association in saving lives right here in our community. We celebrated the success of this community impact at the Iredell Heart Ball. Social Media Pages:Facebook: @AHANorthCarolinaTwitter: @AmericanHeartNC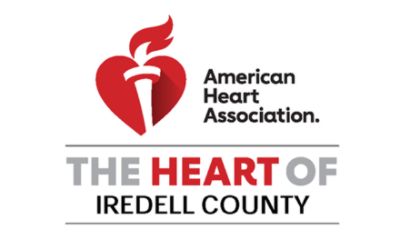 ---
Practice Burn - Mooresville Fire Department - RANDY MARION SUBARU R
Randy Marion Subaru recently acquired nearly 3 acres adjoining the current dealership as a capital investment for future growth. In the acquisition, one acre was a commercial business with a pre existing building that is currently being remolded for the new Pre-Owned Sales Facility. The other two acres consisted of two older homes on property that will be allocated to a new storage lot and customer outdoor pet friendly open space. On that property was two older homes. Randy Marion Subaru made the decision to donate the homes to the Mooresville Fire Department to administer a controlled burn and provide much desired live fire training to our finest local firefighters. According to Training Chief, Ben Hess, the desire for remodels an home flips in todays market has reduced the amount of opportunities to train Firefighters in live home fires to as few as 6 per year. The value of training attained by these controlled burns ranks a 10/10 according to Chief Hess, as a real home fire is the only way to train on real scenarios of air dynamics, flow paths, and burn properties of household materials. By providing 2 homes for controlled burns, the Mooresville Fire Department was able to give all 6 companies (teams) 2 full rotations of training within the houses. Once training was completed, the department was able to control the compete burn safely of both houses and compete the process without issue. By providing this training resource, our finest first responders gain the experience to handle home or business fires in our community. Randy Marion Automotive has supported the Police and Fire Departments in several ways through the years, and this donation of structures for the controlled burns has proved a great resource for the rare opportunity of live house fire simulation.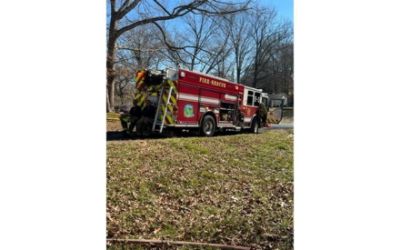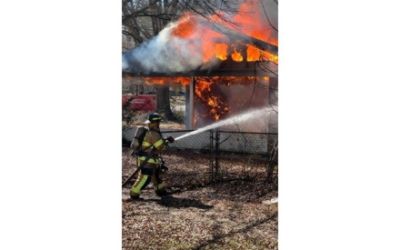 ---
Above & Beyond Customer Experience - marshall m
A couple days ago I had an amazing experience with Randy Marion Subaru. Kathryn Ransom in the Service Department deserves all the accolades that a company should pour on it's most valuable of people. The story... It's a start to a weekend in July and I'm taking my very pregnant wife to a baby shower at her parent's house in West Virginia. Our teenage daughter and Golden Retriever are taking our first trip this year, celebrating the nearing arrival of our son, a true miracle… and then an explosion of the front passenger side window implodes into the vehicle. There is glass all over my wife and so much noise, and we are all too scared to look for a minute for fear of an actual gun shot and wounds. Nothing was seen coming off the road and it's a mystery still what happened. My wife is in panic as bits of glass continue to break loose and whip into the vehicle. I see nothing wrong with her or any of us as I'm decelerating, and navigate us off to the side of the interstate. The traffic is heavy, the sound of each car is overwhelming and I quickly start brushing the glass off my girl's shoes so they can walk through the tall grass and get to safety. We are in shock and panic. When we can all breathe, we schedule a tow truck. Possibly hours of waiting. It's July and it's burning hot outside. Not one person stops to help. My wife is standing 8 months pregnant in the heat and weeds and nowhere to sit among the road debris. My daughter is silent, trusting we are going to figure this out. Ultimately I asked the roadside rep where they would take our car and they gave me a number for the closest dealership. I called the dealership to let them know I would be having a vehicle towed there and Kathryn answered. Kathryn was courteous when answering and after hearing that I was about to hire a driver to pick up my family since we couldn't ride in the tow service vehicle, she immediately offered to send someone to get us. She was very sincere in wanting to see us to safety. With my family picked up, I called the tow service to cancel and drove to the dealership. Once there, Kathryn greeted us, made sure we were ok, offered us water, had a vehicle ready that she offered to loan us. Given the circumstances Kathryn said they'd have someone drive us home to get to our other vehicle. We unpacked our vehicle, got the luggage off the roof rack, got our pup, and we got chauffeured home. There are so many things worth mentioning here… the panic we had all felt, the pressure of figuring out what to do next, the fact we were 45 minutes from our home, we still didn't know what the cause of the issue was, all our possessions had splinters of glass on them, including in my wife's scalp and so on. It had been a terrifying event. A super nice guy had picked us up off the highway and another great young man had carried us home. Kathryn called later that day to check on us and to let me know they had my car in a covered location with the parts ordered and that she'd call me after the weekend, but to not worry about this and to enjoy my family and the shower. It was very kind of her. Fast forward to Tuesday morning and she called me again to tell me the parts were received, installed and that we could pick up the vehicle at our convenience. She also told me they had to order some other parts for the door where the interior had been cut by the glass and touch up paint, but that there was absolute zero charge for any of this. She told me she assumed we'd want the car back ASAP and that once the other items were in we could have the rest of the repairs done at zero charge. I was not expecting that. Our car only had 11,000 miles on it but still, I figured I'd be giving money to somebody for this and nobody asked for anything. I asked Kathryn to let the sales staff know that we might want to look at an upgrade vehicle that would make life easier with the new baby. Keeley Murphy called me. He had been our Sales Professional who sold my wife our Forester. Keeley listened to my tale, was empathetic to what happened and had immediate options ready to show us. We arrived, met with Kathryn, took possession of our Forester again, thanked everyone and meet with Keeley. After a very enjoyable time with Keeley and Brian, the Sales Manager, we traded up to a 2022 Outback with all the safety features and upgrades that we could have wanted and my wife is ecstatic. It was as efficient and fun as anyone could hope for. The reality of great customer service is that if you listen to people and put yourself in their shoes, you have the chance of being remarkable in their eyes. I don't think that Kathryn, Keeley or Brian, thought they were being extraordinary to us, but they were. They all took the time to speak with us and treated us in a way where we felt compelled to do more business with them and to ultimately buy a more expensive vehicle and still write a small novel about their great service. Sincerely, H. Whitehead -
---
Rescuing and Distributing Food With FeedNC - Rhonda O
FeedNC had a problem, a farm committed to donating a tractor trailer load of food monthly. Their only request was to deliver to just one location. FeedNC wanted to accept the donations but they didn't have the space to store it or enough clients to consume all the food before expiration. They called us!!! "The Randy Marion Subaru team has been generous with their time and talents to Assist FeedNC with unloading and distributing a semi truck monthly full of fresh produce and meat that is feeding thousands of families in our community. We could not complete such a huge outreach to our community without their help"............... Lara Ingram Director of FeedNC Together we worked out a plan: the staff at Randy Marion Subaru would unload the truck, separate the food and distribute it to FeedNC and 5 other agencies they partner with to help the Food Insecure in our area. Trucks began arriving the 3rd Monday of the month in April. This monthly commitment allows our staff to take turns serving. Spending half a day rolling up your sleeves, working along side the team at FeedNC and your fellow coworkers leaves a feeling of gratitude: Gratitude we play a part in providing food for thousands of people monthly, for the generous donations from the farm, for the physical ability to help, for an employer who supports giving back, and tremendous GRATITUDE for the bonding we are experiencing as a team. We look forward to continuing our partnership with FeedNC and the commitment we both share to help to the Food Insecure in Iredell County.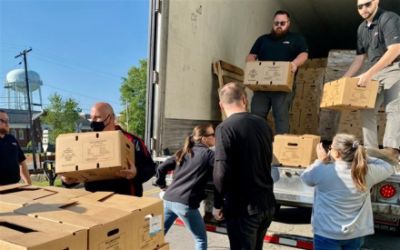 ---
COMMITTMENT TO EXCELLENCE - Diana - Bert I
In Feb 2020 we bought our first Subaru. We loved our brand new 2020 Forester Sport. After 3 months we started to experience electronic/computer issues with the car. Randy Marion Subaru brought out a loaner car and picked up our car to get fixed. This happened several times, however, each time they were in constant contact with us advising us of the status of our car and how they were fixing it. They were so kind and attentive to us making sure all the time that we were aware of what was happening with our car. Finally in December 2020 they called us to advise that the car was fixed and was ready to either be picked up or they could deliver it to our home. By then, although every thing was fixed, we were not comfortable with taking the car back as we didn't trust that the issue would not return as it had several times. We called them and explained our thoughts and feelings, they said they understood and would check to see what could be done. WE WERE SO SURPRISED/SHOCKED when we received a call telling us that they had contacted the corporate office and because of all the ongoing issues they were taking the car back and it was being replaced with a BRAND NEW 2021 Forester!!! Talk about OUTSTANDING CUSTOMER SERVICE!!! We never would have thought that any car manufacturer or dealership would ever ever stand by their product to this extent. BRAVO!!! The staff at Randy Marion Subaru were wonderful in helping with this transition. Making sure that the new Forester was exactly like the one we bought in February. Making sure that we enjoyed our Subaru Experience and that we were satisfied with the final result. Hats Off to RANDY MARION SUBARU dealership & staff for the excellence of their customer service and true partnership with their customers to ensure the SUBARU EXPERIENCE. We will be Subaru owners from now on and should we move out of state, we'll be back to Randy Marion Subaru to buy our next Subaru. Thank You All so much for everything!! We love our Forester & telling everyone about Randy Marion Subaru!!
---
My New Subaru!! - Greg K
I recently purchased a 2021 Crosstrek Limited and was very taken aback by the courtesy, professionalism and quality of the process overall. From the very start I realized this wasn't going to be the standard high pressure car buying experience. It started with Ben who clearly cared about what I was saying! I had him change directions several times before setting my sights on a Crosstrek. He clearly laid out the differences in each model until I decided on the limited version of a very cool little SUV. Since I visited late in the evening it was decided that follow up would be required the next day. Low and behold I was contacted by Keeley the finance manager who told me the color I wanted had been found and routed to the dealership...man!! At this point Keely laid out the financing details and gave me a solid idea of my monthly payment. After a brief discussion on timing I was told the vehicle would be at the dealership the following day before 5pm. I pulled in at 5:30 to see my new car sitting there ready to go. After a brief interaction with my sales guy Ben to include lots of oohhs and awwwsss on my part I sat down with Keeley for the final process...smooth as silk! Very impressed with the large interactive contract table sitting before me to say the least! This team knows what customer service looks like. I had an "experience" not just a run of the mill sales procedure. My hats off to a great team!! Thank you!! Greg Kennon
---
Randy Marion Loves Pets Supply Donation - Randy M
As we have enjoyed additional involvement with the Subaru Loves Pets Event in the past with in store pet adoptions and other events, we decided to increase involvement in the already well prepared Subaru Loves Pets Event by supporting our local pet rescue with much needed food and supplies. During the month of October 2020, Subaru of America and Randy Marion Subaru are donating $100 per adopted pet as we use the power of our website and social media to promote available animals ready for adoption. To add to this event, we have donated an additional $2000 worth of Dog and Cat food, treats, collars, toys and litter to our sponsored rescue center. The mission is to further assist our local shelter with the food and litter needs while they shelter pets before they find their new homes. The leashes and toys will go to the families as they welcome their new furry friends to the family. Our partner animal shelter is Piedmont Animal Rescue in Mooresville, NC and the pet supplies were purchased locally from Dog Supplies Warehouse Store in Huntersville, NC. This additional supply donation was furnished by Randy Marion Subaru and K. Bowers (Sales and Leasing Consultant) in memory of two wonderful pets, "Buddy and Sissy".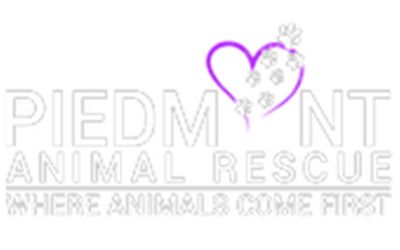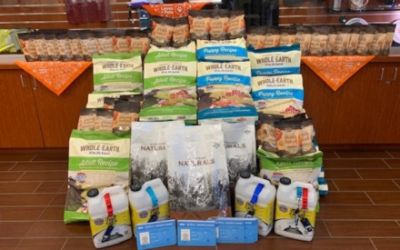 ---
FeedNC Community Commitment Project - Randy M
As we continue years of partnership with Feed NC, our local charitable organization specializing in community food services, we are pleased to have completed another Love Promise Community Commitment Project. Each year as Randy Marion Subaru works with FeedNC we ask if there is a new program they are seeking to add to their already extensive list of services and how we can help them implement it. Last year we were able to help launch the very successful FeedNC Culinary Program that has 100% graduate placement. This year Lara Ingram, the director of FeedNC expressed concern over the rising number of homeless in our Mooresville community, particularly because Mooresville doesn't have a homeless shelter. FeedNC recognized this need as they saw the very people they fed and served daily sleeping on the street. There are shelters in neighboring communities that are doing their best to serve their citizens and yet they are turning people away daily due to max capacity, it is not an option for them to assist our Mooresville friends. Acknowledging this problem, Randy Marion Subaru and Feed NC put together strategically supplied resource kits for Feed NC to give to their homeless clients. The goal for this project is to provide basic shelter and hopefully a little comfort to those experiencing the hardship of homelessness. We spent a lot of time preparing our kits with the most essential items needed daily all while considering the approaching colder weather. We were able solicit donations from several local businesses, including Give Soap for Hope, Thorlo, and Sweet Dreams Mattress & Furniture. Included in these kits were the following: • High Quality Lightweight Sleeping Bag • Lightweight 2-person Tent • Durable Tarp • Nylon Lightweight Camping Backpack • First Aid Kid • LED Flashlight • Reusable Utensil Kit • Collapsible Pillow • 2 Pairs of High Quality Thorlo Socks • Face Mask • Sunscreen • Soap / Shampoo / Deodorant • Dental Hygiene Kit • High Protein Non-Perishable Food • Water Feed NC has expressed their gratitude for donation of kits to each of their existing homeless clients and the additional working supply of kits left to meet need of those who are newly homeless. Randy Marion Subaru has prepared a list of where to resource these items for people / organizations looking to donate to a great cause and continue this resource to our community. Randy Marion Subaru is grateful to continue its partnership with FeedNC as the local charity selection of the upcoming Share the Love Event.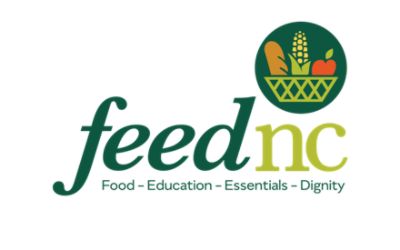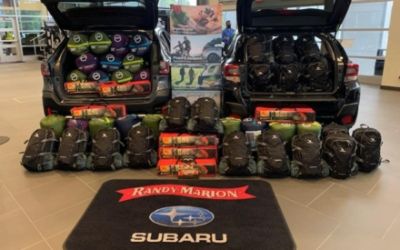 ---
Commitment To A Customer In Need - Macy C
Randy Marion Subaru wanted to share a rather unique story of taking care of a long time, repeat client. Bob, an over 10-year loyal client called upon Tom Gilbert, his trusted service advisor, with an odd request. Tom quickly realized this specific request was not automobile-related. Bob was in desperate need of toilet paper. Given the current economic climate on the scarcity of toilet paper, Bob, although a bit embarrassed, asked if there was any way he could purchase some from our dealership. Our dealership at the time was also scarce in the current supply of paper products. Tom wanted to do what he could to help. He put a significant amount of personal time and effort into searching the greater area grocery stores with little success in his mission to acquire toilet paper for Bob. Tom finally had success in finding one of the most difficult daily staples acquirable. With excitement, Tom reached out to Bob and presented him with the successful news! Bob came by the dealership to receive his gift from Tom and was extremely thankful and incredibly relieved. Our dealership is so proud of this rather simple act of compassion shown by our team member, Tom. His dedication to help a client out in a time of need was a true Commitment to our Customer. In addition, we are so pleased that Bob had looked upon our dealership as a resource that he could rely on during a time of need. There is always much more we can do for a client other than our routine services, and in these challenging times it is especially important. We are grateful for our clients and even more thankful we have team members as genuine as Tom Gilbert.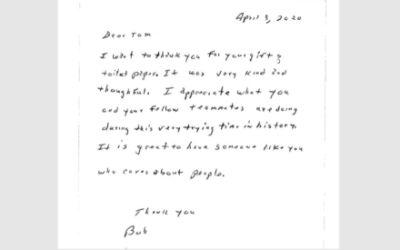 ---