The 2021 Subaru Love Promise Customer and Community Commitment Award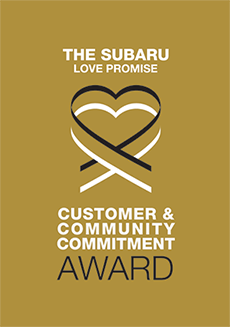 We've been nationally recognized for our dedication to our customers, our community, and the Subaru Love Promise.
We're honored to receive the 2021 Subaru Love Promise Customer and Community Commitment Award. This award nationally recognizes elite Subaru retailers who provide an exceptional customer experience at every interaction with Subaru. These retailers have also demonstrated an outstanding commitment to supporting passions and causes in their local communities in important areas such as the environment, community, health, education, and pets.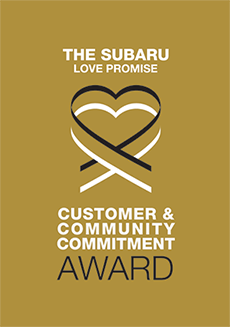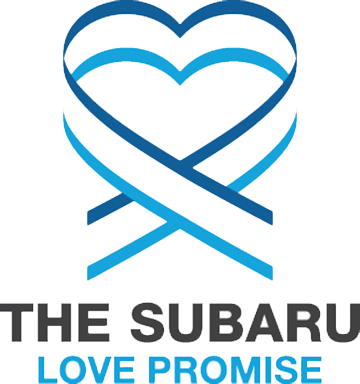 What is the Subaru Love Promise?
Subaru and our retailers believe in making the world a better place and the Subaru Love Promise is our vision of respecting all people. This is our commitment to show love and respect to our customers and to work to make a positive impact in the world.
How is Randy Marion Subaru dedicated locally to the Love Promise?
Our Love Promise can be seen in various partnerships with local charities and non-profits including the Humane Society of Iredell, Mooresville Soup Kitchen, and the American Red Cross. We're grateful for the opportunity, not only to be a part of our community, but to serve it as well.
Lake Norman Regional Medical Center
Love Promise Stories from Randy Marion Subaru
Subaru and Randy Marion Subaru believe in making a positive impact on the communities in which we live and work. We uphold that belief through our Love Promise Community Commitment. Every month, we select inspiring stories from customers and partners from around our area who strive to support our collective commitment and feature them here
Rescuing and Distributing Food With FeedNC - Rhonda O
FeedNC had a problem, a farm committed to donating a tractor trailer load of food monthly. Their only request was to deliver to just one location. FeedNC wanted to accept the donations but they didn't have the space to store it or enough clients to consume all the food before expiration. They called us!!! "The Randy Marion Subaru team has been generous with their time and talents to Assist FeedNC with unloading and distributing a semi truck monthly full of fresh produce and meat that is feeding thousands of families in our community. We could not complete such a huge outreach to our community without their help"............... Lara Ingram Director of FeedNC Together we worked out a plan: the staff at Randy Marion Subaru would unload the truck, separate the food and distribute it to FeedNC and 5 other agencies they partner with to help the Food Insecure in our area. Trucks began arriving the 3rd Monday of the month in April. This monthly commitment allows our staff to take turns serving. Spending half a day rolling up your sleeves, working along side the team at FeedNC and your fellow coworkers leaves a feeling of gratitude: Gratitude we play a part in providing food for thousands of people monthly, for the generous donations from the farm, for the physical ability to help, for an employer who supports giving back, and tremendous GRATITUDE for the bonding we are experiencing as a team. We look forward to continuing our partnership with FeedNC and the commitment we both share to help to the Food Insecure in Iredell County.
---
COMMITTMENT TO EXCELLENCE - Diana - Bert I
In Feb 2020 we bought our first Subaru. We loved our brand new 2020 Forester Sport. After 3 months we started to experience electronic/computer issues with the car. Randy Marion Subaru brought out a loaner car and picked up our car to get fixed. This happened several times, however, each time they were in constant contact with us advising us of the status of our car and how they were fixing it. They were so kind and attentive to us making sure all the time that we were aware of what was happening with our car. Finally in December 2020 they called us to advise that the car was fixed and was ready to either be picked up or they could deliver it to our home. By then, although every thing was fixed, we were not comfortable with taking the car back as we didn't trust that the issue would not return as it had several times. We called them and explained our thoughts and feelings, they said they understood and would check to see what could be done. WE WERE SO SURPRISED/SHOCKED when we received a call telling us that they had contacted the corporate office and because of all the ongoing issues they were taking the car back and it was being replaced with a BRAND NEW 2021 Forester!!! Talk about OUTSTANDING CUSTOMER SERVICE!!! We never would have thought that any car manufacturer or dealership would ever ever stand by their product to this extent. BRAVO!!! The staff at Randy Marion Subaru were wonderful in helping with this transition. Making sure that the new Forester was exactly like the one we bought in February. Making sure that we enjoyed our Subaru Experience and that we were satisfied with the final result. Hats Off to RANDY MARION SUBARU dealership & staff for the excellence of their customer service and true partnership with their customers to ensure the SUBARU EXPERIENCE. We will be Subaru owners from now on and should we move out of state, we'll be back to Randy Marion Subaru to buy our next Subaru. Thank You All so much for everything!! We love our Forester & telling everyone about Randy Marion Subaru!!
---
My New Subaru!! - Greg K
I recently purchased a 2021 Crosstrek Limited and was very taken aback by the courtesy, professionalism and quality of the process overall. From the very start I realized this wasn't going to be the standard high pressure car buying experience. It started with Ben who clearly cared about what I was saying! I had him change directions several times before setting my sights on a Crosstrek. He clearly laid out the differences in each model until I decided on the limited version of a very cool little SUV. Since I visited late in the evening it was decided that follow up would be required the next day. Low and behold I was contacted by Keeley the finance manager who told me the color I wanted had been found and routed to the dealership...man!! At this point Keely laid out the financing details and gave me a solid idea of my monthly payment. After a brief discussion on timing I was told the vehicle would be at the dealership the following day before 5pm. I pulled in at 5:30 to see my new car sitting there ready to go. After a brief interaction with my sales guy Ben to include lots of oohhs and awwwsss on my part I sat down with Keeley for the final process...smooth as silk! Very impressed with the large interactive contract table sitting before me to say the least! This team knows what customer service looks like. I had an "experience" not just a run of the mill sales procedure. My hats off to a great team!! Thank you!! Greg Kennon
---
Randy Marion Loves Pets Supply Donation - Randy M
As we have enjoyed additional involvement with the Subaru Loves Pets Event in the past with in store pet adoptions and other events, we decided to increase involvement in the already well prepared Subaru Loves Pets Event by supporting our local pet rescue with much needed food and supplies. During the month of October 2020, Subaru of America and Randy Marion Subaru are donating $100 per adopted pet as we use the power of our website and social media to promote available animals ready for adoption. To add to this event, we have donated an additional $2000 worth of Dog and Cat food, treats, collars, toys and litter to our sponsored rescue center. The mission is to further assist our local shelter with the food and litter needs while they shelter pets before they find their new homes. The leashes and toys will go to the families as they welcome their new furry friends to the family. Our partner animal shelter is Piedmont Animal Rescue in Mooresville, NC and the pet supplies were purchased locally from Dog Supplies Warehouse Store in Huntersville, NC. This additional supply donation was furnished by Randy Marion Subaru and K. Bowers (Sales and Leasing Consultant) in memory of two wonderful pets, "Buddy and Sissy".
---
FeedNC Community Commitment Project - Randy M
As we continue years of partnership with Feed NC, our local charitable organization specializing in community food services, we are pleased to have completed another Love Promise Community Commitment Project. Each year as Randy Marion Subaru works with FeedNC we ask if there is a new program they are seeking to add to their already extensive list of services and how we can help them implement it. Last year we were able to help launch the very successful FeedNC Culinary Program that has 100% graduate placement. This year Lara Ingram, the director of FeedNC expressed concern over the rising number of homeless in our Mooresville community, particularly because Mooresville doesn't have a homeless shelter. FeedNC recognized this need as they saw the very people they fed and served daily sleeping on the street. There are shelters in neighboring communities that are doing their best to serve their citizens and yet they are turning people away daily due to max capacity, it is not an option for them to assist our Mooresville friends. Acknowledging this problem, Randy Marion Subaru and Feed NC put together strategically supplied resource kits for Feed NC to give to their homeless clients. The goal for this project is to provide basic shelter and hopefully a little comfort to those experiencing the hardship of homelessness. We spent a lot of time preparing our kits with the most essential items needed daily all while considering the approaching colder weather. We were able solicit donations from several local businesses, including Give Soap for Hope, Thorlo, and Sweet Dreams Mattress & Furniture. Included in these kits were the following: • High Quality Lightweight Sleeping Bag • Lightweight 2-person Tent • Durable Tarp • Nylon Lightweight Camping Backpack • First Aid Kid • LED Flashlight • Reusable Utensil Kit • Collapsible Pillow • 2 Pairs of High Quality Thorlo Socks • Face Mask • Sunscreen • Soap / Shampoo / Deodorant • Dental Hygiene Kit • High Protein Non-Perishable Food • Water Feed NC has expressed their gratitude for donation of kits to each of their existing homeless clients and the additional working supply of kits left to meet need of those who are newly homeless. Randy Marion Subaru has prepared a list of where to resource these items for people / organizations looking to donate to a great cause and continue this resource to our community. Randy Marion Subaru is grateful to continue its partnership with FeedNC as the local charity selection of the upcoming Share the Love Event.
---
Commitment To A Customer In Need - Macy C
Randy Marion Subaru wanted to share a rather unique story of taking care of a long time, repeat client. Bob, an over 10-year loyal client called upon Tom Gilbert, his trusted service advisor, with an odd request. Tom quickly realized this specific request was not automobile-related. Bob was in desperate need of toilet paper. Given the current economic climate on the scarcity of toilet paper, Bob, although a bit embarrassed, asked if there was any way he could purchase some from our dealership. Our dealership at the time was also scarce in the current supply of paper products. Tom wanted to do what he could to help. He put a significant amount of personal time and effort into searching the greater area grocery stores with little success in his mission to acquire toilet paper for Bob. Tom finally had success in finding one of the most difficult daily staples acquirable. With excitement, Tom reached out to Bob and presented him with the successful news! Bob came by the dealership to receive his gift from Tom and was extremely thankful and incredibly relieved. Our dealership is so proud of this rather simple act of compassion shown by our team member, Tom. His dedication to help a client out in a time of need was a true Commitment to our Customer. In addition, we are so pleased that Bob had looked upon our dealership as a resource that he could rely on during a time of need. There is always much more we can do for a client other than our routine services, and in these challenging times it is especially important. We are grateful for our clients and even more thankful we have team members as genuine as Tom Gilbert.
---
Make a Dog's Day - Andy A
Subaru is proud to establish the first-ever National Make A Dog's Day October 22nd. As part of Subaru Loves Pets month, we're inviting all dog lovers to do something extra special for their furry best friends. Plus, Subaru will be focusing our efforts on helping the hardest-to-adopt shelter Dogs –those with special needs-find homes. Get ready to fall in love withThe Underdogs. #MakeADogsDay Meet Gabi! Gabi has been at the Humane Society of NWGA (Northwest Georgia) for seven years. If you asked the volunteers to pick their favorite animal at the shelter, Gabi would win hands down. She does not do well with dogs or cats so must be the only animal in an adult only family. She loves people and will bond very quickly to you. Gabi would make someone a great companion. She is waiting patiently for her forever home. If you have room in your heart and your home for this sweet girl then please fill out an adoption application, highlight and right click this link: https://hsnwga.org/adoption/application-for-adoption/?fbclid=IwAR2Ie18p6U3ryKi-niIuIZFTd-waD98xrySl7IJmiRBXE239WP7dpODubiU #MakeADogsDay #SubaruLovesPets #TheUnderdogs
---
A Family Affair - Cathy B
It's a family affair at Randy Marion Subaru in Mooresville, NC and Randy and his son Randy, Jr. take great pride in the philanthropic approach they take to life. Giving back to their community just comes naturally, and their respect and admiration for the high quality of care at Lake Norman Regional Medical Center (LNRMC) is evident in their continuing to opt into the Subaru Loves to Care tri-partnership with The Leukemia & Lymphoma Society, NC Chapter (LLS NC) and LNRMC. Teaming up with LLS NC to deliver blankets and Subaru Customer Care Cards which have been filled out with messages of hope and inspiration to cancer patients at LNRMC has become a favorite event at Randy Marion Subaru each summer. What seems unique, this the fourth year of the wonderful partnership, is that the same faces take part in the event at Randy Marion Subaru year after year. There appears to be absolutely no turnover in staff, and that speaks volumes to the family feeling Randy and Randy, Jr. continue to foster at their dealership. On behalf of LLS NC and the patients it serves, thank you so much for continuing this partnership and giving back to others in need. Randy Marion Subaru is helping LLS kick cancer to the curb!
---
Because of the Love of Randy Marion Subaru - Lara I
Randy Marion Subaru has supported the mission of the Mooresville Soup Kitchen in our community for many years. The support that is shown from Randy Marion Subaru allows Mooresville Soup Kitchen to support our neighbors with ready access to healthy food, job training in the culinary field, education in the form of resume writing, job searching, ESL classes, and connections to community resources. We are also able to take meals to shut-ins, host neighborhood food markets throughout our community to give groceries to those in need, and teach cooking classes in our kitchen. Mooresville Soup Kitchen feeds approximately 100 people per day, serves 150 families per week in our food pantry, and provides food to children, veterans, and seniors in need. Our Culinary Job Training program has effectively placed 7 graduates in jobs where they are thriving and making positive changes in their lives. Many of the guests that we partner with have found a job, moved into safe housing, and are working toward a more stable life for their families. Thank you to Randy Marion Subaru for the compassion, love, and connections that you are showing to our community.
---
Thankful for our Law and Emergency Services - MEGAN R
Randy Marion Subaru, in our annual effort to thank the Mooresville Police Department and Mooresville Fire Department for what they do to protect and serve our community, participated in handing out 690 turkeys to those that serve! Thank you from everyone at Randy Marion to our community law enforcement and emergency assistance services. This tradition has been carried out since 1992 and we look forward to many more years of showing our thanks!
---
Randy Marion Supports Education Locally - Randy M
Giving back to the community is engrained in the culture at Randy Marion Subaru. We partner with many different organizations, but one of our favorites is the Y Reader program.The Y Reader program serves rising 1st thru 3rd graders who are reading below grade level, as 1/3 of 3rd graders read below grade level. Intervention at this time is imperative as this is when students stop learning to read and begin reading to learn. A child's ability to read at grade level is the best predictor of a child's success at school, career, and ultimately at life. The program runs through the summer and provides classroom instruction in the morning, camp activities in the afternoon, and instruction for parents so they can continue the journey at home. There are many components that work together to make this program successful: funding, classroom volunteers, equipping parents, and books to go home with each child. Randy Marion Subaru values and believes in the mission of the Y Reader program and wanted to support them in every way possible. For starters, Randy Marion Subaru donated $25,000 to the local Y Reader program. But the support did not stop there. Several of our employees participated as weekly volunteers, following the provided structured curriculum. For the end of summer celebration, Alexandria Marion, along with several members ofthe Subaru management team, read to each class and gifted them with several children's classics to take home. Robin Blaney, director of the Y Readers of Mooresville, said "the kids loved the books, the smiles were big and there were lots of them, and smiles again when they were reassured the books were going to their homes. Randy Marion's Subaru's long term commitment has made a positive impact in the lives of hundreds of children. The scholastic improvements have been proven over and over, just as important is the confidence and the feeling of community the children feel when they graduate." In the spirit of Subaru's Love Promise commitment Randy Marion Subaru is pleased to have partnered with the Y Reader Program in serving the children at Park View Elementary.
---
Caring About Others Is A Randy Marion Thing - Cathy B
The connection Randy Marion Subaru has to its Mooresville, NC community is undeniable. For the 3rd year in a row, Randy opted into the Subaru Loves to Care blanket program, collaborating with The Leukemia & Lymphoma Society (LLS), Charlotte office, delivering warm blankets and hopeful, inspirational messages from Subaru customers to Lake Norman Regional Medical Center (LNRMC). Randy, joining his expansive team at his Subaru dealership, showed his appreciation for the wonderful partnership this program has fostered. Randy said, "This is one of my favorite initiatives, and I'm thrilled to sign on each year". Photos were snapped with Randy along with General Manager, Marshall McCarty, and the Subaru staff and Leigh Whitfield, Mitzi McCurdy and Julie McClain from LNRMC accompanied by Cathy Bloomberg and Alyson Willis from the chapter office of LLS. The blankets, tote bags, and Subaru customer care cards were then loaded into two Subarus, and the crew caravanned over to the hospital to deliver the gifts. Leigh Whitfield, Director of Marketing and Public Relations for LNRMC, so appreciates being a part of Subaru Loves to Care each year, and says this about what it means to the patients and staff in their cancer center. "We look forward to getting that call from LLS each spring, telling us that Randy Marion Subaru has chosen our Cancer Center patients to be the recipients of these fabulous gifts. Our patients are humbled by this gesture of support from LLS, Subaru and its customers, and the hospital staff has heard from patients time and again that the blanket and the meaning behind it brought a smile to their faces when they needed it most". As you can see from the pictures, many staff attended the photo op, and not because they love to have their pictures taken. They attended because philanthropy comes from the top, and they wanted to support Randy's passion for giving back.
---
Thanksgiving To Our Local Heroes - Marshall M
Randy Marion Subaru in conjunction with the help of Randy Marion Automotive wanted to provide our support and gratefulness to our local Heroes and Employees. Our company purchased 667 Turkeys, and on Tuesday, November 21st, we loaded our company box truck full of turkeys, and made a delivery to our local police station, local fire station, and all 6 of our franchise location. Our objective was to provide a turkey at the dinner table free of charge to our local heroes... those who we call on in our most vulnerable moments, when we are in need of help, and those who risk their lives to keep our community safe. Thanksgiving is a time when people get together with families and friends, and we took it upon ourselves to deliver this gesture to relieve the financial burden of feeding our local heroes and our staff, as well as showing our gratitude for all they do. We delivered over 100 turkeys to the police department, over 100 to the fire department, and over 500 to our employees everywhere from our part time shop help and detail department to the top of our corporate management and everyone in between. This event went over better than expected, and we were able to share this special day on social media and other avenues to bring a positive experience to the public. We plan to continue this event for years to come.
---
A Recipe For Giving Back - Cathy B
July 10th was a day filled with people and businesses that understand the importance of giving back to the community they are a part of. Randy Marion Subaru in Mooresville is just that type of business. For the second year in a row, this Subaru retailer provided warm blankets and kid's craft kits for patients at Lake Norman Regional Medical Center (LNRMC). And along for the ride was Scott Peterson, with his adorable daughters Nora and Harper, giving back to an organization that supported the research that ultimately saved his life from non-Hodgkin's lymphoma 10 years ago. Scott is actually the perfect example of what working hard to make a difference looks like; He is the 2017 LLS NORTH CAROLINA Man of the Year, as well as the 2017 LLS NATIONAL Man of the Year, raising $379,287 in just 10 weeks for The Leukemia & Lymphoma Society, NC Chapter Man & Woman of the Year campaign! Recipe for Giving Back: Combine people like Scott with businesses like Randy Marion Subaru, and the impact is enormous!
---